Buffalo Grove training center
Buffalo grove training center: Our indoor training and practice center for the Northshore. We have developed a space for all level of golfers. There is no better space to learn all aspect of the game. Our state of the art technology allows students accurate and measurable feedback. With 5 full swing simulators we are equipped with three Trackman 4 simulators, one Foresight GC Quad, one Foresight GC2, ex-putt, My Swing Force Plate, multiple high speed cameras, and a chipping and putting green. This is the place to be to improve.
Buffalo grove golf course
Buffalo grove golf course: The facility has a full 18-hole golf course, driving range, putting green and short game area. The 18 holes plays 6,693 from the championship tee. Addrress, 48 Raupp Blvd. Buffalo Grove, Illinois 60089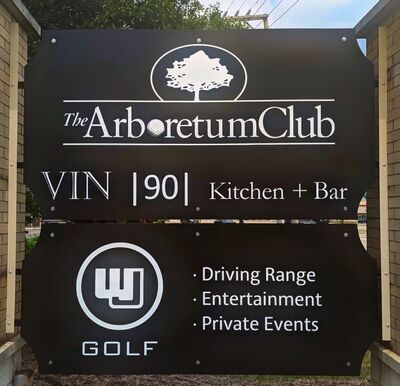 Arboretum golf club
Arboretum golf club: The Arboretum Golf Club is a spectacular Dick Nugent design that opened in May 1990. The course features county club style fairways, tees and greens. You will find it tightly bunkered with plenty of water to keep you honest. If you are looking for a supreme test of shot-making abilities, you will need to look no further. The 18-hole course features 6,500 yards of golf from the longest tees for a par of 72. The course rating is 71.1 and it has a slope rating of 132 on Bent grass. The Arboretum Golf Club is always in great playing conditions and fastidiously well-kept. Players have left remarks regarding the pristine quality of the grass which keeps them wanting to come back and play more. Each hole at the Arboretum Golf Club is meant to challenge player of all ages and skill levels, so everybody is welcome here to hone their golf skills. The holes are also well-spaced to allow for a steady place of play and the staff is readily available to assist you with any of your golf or other needs. Before you leave make sure to check out the Pro-Shop at the Arboretum Golf Club, where you can find a variety of gear and merchandise that can aid you on your next golf journey. From changing grips to setting up a golf outing, there are an immeasurable amount of ways you can find what you are looking for here! Look no further than the Arboretum Golf Club if you are looking for an exciting day of classy, yet challenging, fun! Address: 401 Half Day Road. Buffalo Grove, Illinois 60089.
Chicago training center
Chicago training center: MCG provides a private and comfortable environment for you to play golf year round. MCG uses Foresight GC QUAD Simulators which provide extremely accurate ball flight readings with championship golf courses to test your skills. With two simulators, 2 putting greens and an ex-putt you can really improve your game this winter.
Robert "Black"
Robert "Black": Once a private club in 1896, at a location two miles to the east along the shores of Lake Michigan, Robert Black was once the exclusive private five hole golf course named Edgewater Golf Club. In 1910, the golf course moved to its current location. In the 1970's, the park was redeveloped into split open parkland and the nine hole golf course that is in place today. Address: 2045 W Pratt Blvd. Chicago, Illinois 60045.
900 W Foster Ave.
900 W Foster Ave.: We're dedicated to providing a rewarding social environment in a distinguished setting for our members and their families. PRIVATE FACILITY. Address: 900 W Foster Ave. Chicago, Illinois 60042.
I met David about 4 years ago when he was at Green To Tee up at Glencoe Golf Club. I hired him to work with my son who wanted to try and be on the high school golf team. My son did make the team and then I decided to start taking lessons from David. In the last 2 years David has taken my handicap from 23 to 14.
Craig Rosenberg - Northbrook, IL
My 14-year old son has worked with David for several years. David has helped him develop a very solid golf game; learning all the fundamentals as well as developing the confidence to compete. In addition, David has provided a great example of how to conduct oneself both on the course and in life.
Kathy Mignin - Chicago, IL
In eighth grade my daughter decided to give up her other sports and start a completely new sport- that being golf. She started with David Maslen who taught her the basics from the ground up. She had never held a golf club before and David patiently and methodically taught her everything she needed to know about the game of golf.
Cathy McCulloch - Wilmette, IL
I started to practice golf 5 years ago. Everything seemed difficult till I found David. Since then, my skills improved by a huge margin. I cannot recommend David enough; I send my two boys to the golf camps and it's so rewarding to see the progress.
Barry McGregor - Chicago, IL
Playing golf is one of the things I like the most but I never thought I can progress in this sport. David was the only instructor who proved be otherwise; golf is for everyone and we should all trust ourselves.
Marving Drake - Chicago, IL
It's difficult to chose a sport from so many options when you have children. Luckily David's gold camps turned out to be the best solution for my family: I send them every year to the camps and my kids enjoy golf more than any other sport.
Claudia Earman - Chicago, IL
By age 15, Sophomore year, my daughter played on the varsity high school golf team. David would come to tournaments and support her during the golf season. He would review her play and focus lessons on her areas of greatest need. He is an encouraging, positive, and an incredibly knowledgeable coach. David sets his standards high and expects his students to put in the time to improve.
Crofton Kendall - Chicago
David is always kind, professional and encouraging. My wife and I also appreciate the outstanding communication David has with us and his insights into ways our son can continue to develop and improve. It has been a pleasure both to watch my son's golf game become very good and to see all the success David is having!
Alton Raymond - Chicago
I asked David if he would work with me and my friends and start a group clinic a few days a week during the winter. That was extremely successful and every clinic sold out each week. David is a great teacher.
Lex Charley - Chicago